Since 2005, the hottest thing BOTH sides of the Mason Dixon Line has been traveling the world as one of the Wham Bam Thank You Ma'ams, backing up the infamous Foxy Tann in her quest for world domination. As a soloist, "The Cyclone of Burlesque" has been featured in such International burlesque festivals as: Edmonton, Vancouver, Hawaii, Toronto & Fierce! and national burlesque festivals such as Dallas, Houston, Texas & Show-Me. To keep tootin' let's not forget the renowned showcases such as: Jeezy's Juke Joint & Superstars of Burlesque (Chicago), Lannie's Clocktower (Denver), Margaret Cho's The Sensuous Woman (Los Angeles), Little Minsky's & Hubba Hubba Review (San Francisco), and Immodesty Blaize's Burlesque Review (London).

RedBone was voted #19 in 21st Century Burlesque Magazine's Top 50 of 2016, one of The National Top 8 by Viva Las Vegas Rockabilly Weekend in 2013, Judges choice 2016 and had the honor of competing for Queen in Miss Exotic World at the 2015 and 2017 Burlesque Hall of Fame Weekender! Internationally known, Minnesota grown is also the Executive Producer The Nudie Nubie Show - An Amateur Reveal & Nudie Nubie's SF -- a show designed to support & elevate the up coming generations of teasers!

Recently, she has made it a priority to glamorously & naturally hydrate the skin of humans across the globe with her new product Glam Jam -- an all-natural glitter lotion stick aka "Glo-tion For Your Motion". This free-styling & classic, dancing machine (The Cyclone of Burlesque) combines the all cultures that raised her for a one of kind, whirlwind performance experience.

​
FEATURE PERFORMER
THE DUCHESS OF DORK; ELLIE QUINN
​From Richmond, Virginia, Ellie Quinn uses her inner most fangirl to tease and tickle your funny bone. The Duchess of Dork has performed all across the US and internationally, including: headlining the NOLA Nerdlesque Festival in 2015, hopping the pond to perform two avenging acts in the 2016 London Burlesque Festival, chasing burgers all the way to compete in the 2017 Geneva Burlesque Festival, and following her arc reactor to the 2017 Como Lake Burlesque Festival (yes, there were burgers there too). Always upbeat and borderline absurd, you'll want to catch a peek at this geek!
Ellie can be found as a soloist on stages all over the East Coast, making regular trips to Burlington, Vermont to appear with the Green Mountain Cabaret and New York City to appear with D20 Burlesque. She regularly produces in her hometown Richmond, Norfolk, and DC. She is the resident performer and curator for monthly burlesque brunches at Grandstaff and Stein RVA and OBX.
The burlesque bug bit Ellie in fall of 2010, and she threw herself into learning everything she could. She made her burlesque debut in April 2011. In October 2013, she facilitated the first burlesque show at the historic Naro Cinema in Norfolk. She began producing shows January 2014, such as Boob's Burgers, Justease League, Some Enchanted G-String, Earth's Mightiest Burlesque Show, The Tease is Out There, Hanna Bar-bare-all, and Lip Sync Battle Burlesque. She has co-produced Carry On My Wayward Bra and Stripelodeon. She produced a nerdlesque revue in 2015 for MarsCon in Williamsburg, a first for the convention and the city.


Powered by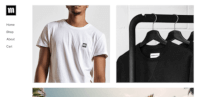 Create your own unique website with customizable templates.